Technician Class Licensee
The FCC Technician License Exam
Covers basic regulations, operating practices and electronics theory, with a focus on VHF and UHF applications. Morse code is not required for this license.
With a Technician Class license, you will have all ham radio privileges above 30 MHz. These privileges include the very popular 2-meter band. Many Technician licensees enjoy using small (2 meter) hand-held radios to stay in touch with other hams in their area. Technicians may operate FM voice, digital packet (computers), television, single-sideband voice and several other interesting modes.
You can even make international radio contacts via satellites, using relatively simple station equipment. Technician licensees now also have additional privileges on certain HF frequencies. Technicians may also operate on the 80, 40 and 15 meter bands using CW, and on the 10 meter band using CW, voice and digital modes.
All You Need To Pass your Technician Class Exam is your ARRL Technician Class License Manual and:
Pass the 35-question Technician Class test.
All the Exam Questions with Answer Key
NEW! Use with ARRL's online Exam Review for Ham Radio.
Detailed explanations for all questions, including FCC rules.
Order You ARRL Technician Class License Manual TODAY!
You're options?
Whatever you can imagine and your desire to grow in your Ham Radio Hobby takes you!
Pre-Class Requirements:
Read through the Manual including the Q & A's and take online practice exams and supplement your training Class with interactive sample testing before your 1st class and LIVE review session

Register for your General Class License Ham Radio Classes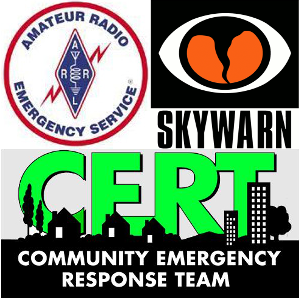 Being a Ham radio Operator can be more than just communicating with friends.  You can make a difference by joining you're local Emergency Services in your community, City, County, State or Nation!
These are 3 of the many Emergency Services you can choose from
Skywarn: Become on the Hams trained by the National Weather Service as one of your communities local Storm Spotters
ARES/RACES

: Emergency service is one of the basics form of the Amateur Radio Service helping your community

CERT

: a volunteer program that educates people about disaster preparedness